Dealing with a Rat Infestation? Discover a Better Solution with Bait Cage!
Our mission is to equip you with the tools to swiftly, safely, and humanely put an end to invasive rats, all at an affordable cost. Say goodbye to gimmicks, obscure tricks, subscriptions, high expenses, and waiting around. At Bait Cage, we're dedicated to showing you the definitive way to eliminate rats once and for all. Explore our website for tips, information, and ideas to help you tackle your rat infestation head-on!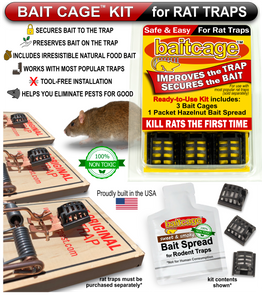 Invasive Rats: A Growing Health Crisis
Throughout recorded history, the issue of rat infestations has persisted, causing significant concerns. The prevalence of invasive species like Norway rats (commonly known as brown rats) and roof rats (also called black rats) has reached alarming levels worldwide. If left unmanaged, these rodents can cause severe harm to both property and human health. Regrettably, numerous conventional approaches to rat and rodent control have proven ineffective, and certain methods even pose risks to the well-being of people and pets. However, a promising solution has emerged—a safe and effective weapon available for homeowners and professionals alike.
Bait Cage Solves the Main Problems with your Rat Trap Success
It can be so frustrating. Rats avoiding traps. Bait stolen from your traps, but no rat is caught. If you've lost faith in the effectiveness of classic snap traps for rat elimination, there's a new ray of hope—introducing the Bait Cage Kit for Rat Traps! This innovative product revolutionizes snap traps by offering the best rat bait and easy-to-install attachments that securely lock the bait in place. With Bait Cage, the irresistible bait remains fresh on the rat traps for as long as necessary. What's more, it's safe for indoor and outdoor use, around pets and children. Whether you are battling one rat or a major infestation, Bait Cage is the ultimate all-in-one kit to ensure that snap traps successfully eliminate rats the first time, every time!
SAVE up to 40% on Bait Cage Kit Multipacks with Same Day* Shipping
3 Reasons Your Traps Aren't Catching Rats
Issue #1: Wrong Bait Selection
Rats exhibit a high level of caution, often requiring time to develop trust in unfamiliar elements, such as new food sources. When it comes to rat snap traps, a prevalent error is the choice of inappropriate bait. You recognize the presence of rats, diligently arrange the traps, only to discover the following day that the traps have been disregarded.
Our comprehensive Bait Cage Kit tackles this challenge head-on by incorporating an exclusive packet of specially formulated, utterly irresistible 100% non-toxic food bait. This bait not only entices rats to the traps but also ensures consistent feeding behavior, ultimately leading to successful captures. CLICK HERE to learn more about our Bait Spread for rat traps.
Issue #2: Rats Stealing Bait
Rats, inherently wary creatures, exhibit remarkable discretion to avoid disrupting their environment or generating noise that might lure in predators while they feed. Possessing insatiable appetites, rats possess the uncanny ability to extract food from a snap trap's bait pedal without triggering the trap itself. The ultimate objective is to capture these rodents rather than inadvertently fuel their feeding frenzy.
This is where the ingenious Bait Cage attachment comes into play, seamlessly addressing this challenge. Easily slipped onto the rat trap's bait pedal, it effectively locks the bait to the trap. As a result, rats are compelled to work harder to access the bait, increasing the likelihood of their capture. CLICK HERE to learn more about the Bait Cage innovation.
Issue #3: Poor Trap Positioning
Effective rat capture hinges on precise trap placement; a vital factor often overlooked. Traps must be strategically positioned in areas where rats are likely to encounter them and feel at ease approaching. Optimal locations include fence lines and barriers, while open spaces should be avoided.
Regardless of your chosen trap sites, take comfort in knowing that our Bait Cage attachments are designed to withstand diverse conditions and are effective in both indoor and outdoor settings. Enhanced by the irresistible allure of our sweet and smoky Bait Cage Spread Bait, these attachments ensure sustained freshness and rat attraction, regardless of the elements. Rain or shine, rest assured that your efforts will yield results. CLICK HERE for our complete list of Tips and Tricks to trap rats.
Unlock the Potential of Rat Traps with Bait Cage
Experience effortless pest control with our meticulously designed Bait Cage Kit. Engineered for user-friendly operation, it seamlessly accommodates the most popular snap-type rat traps while enabling the simultaneous setup of multiple traps. As an added advantage, each kit is complemented by our innovative Bait Cage Spread Bait, specially crafted for optimal performance.
The groundbreaking patent-pending Bait Cage guarantees unparalleled freshness for your trap bait, whether deployed indoors or outdoors. It not only securely anchors the bait to the trap but also ensures continuous rat feeding until the trap is activated, maximizing your chances of success in achieving a rat-free environment.
No need to be overwhelmed by a rodent infestation any longer. Regain control with Bait Cage and take decisive action against unwanted pests.
Customer Testimonials
"I am impressed! I have had multiple Victor traps out around house due to neighbor leaving chicken feed on the ground. I have not caught a rat in almost three months, yet I have seen an occasional one run through my yard. The bait in all my traps was always eaten but not tripped. It was like they figured out how to lick the bait off! I bought your bait cages and first night, Got one! Very impressed with your product - they work!"

LK from Washington
"I can't say enough about this product and the results I had. I have a huge warehouse and had a problem this winter. I tried everything before this including a professional exterminator. Then I tried this and was astounded the morning after I set out 9 of these and all were full! My problem has been solved and all thanks to the Bait Cage, thanks so much! You won't be disappointed with the success!"

TO from California
"Bait Cage worked extremely well"

Shawn Woods, Rodent Trap Expert and Host of Mousetrap Monday
"Rats kept clearing my traps. First night with these bad boys and I nabbed two. Highly recommend!"

BW from California
"Frustration relieved in the very first 24 hours of using this product!!!  EXTREMELY IMPRESSIVE how good this product performs compared to any other trap without Bait Cage!!!"

AR from California
Bait Cage Fits Any Snap-Type Rat Trap with a Pedal and Hook for Holding Bait
Bait Cage Installed on Victor Metal Pedal Rat Trap
Bait Cage Installed on Victor Easy Set Rat Trap
Bait Cage Installed on Metal Rat Traps
Bait Cage Installed on Tomcat Metal Pedal Rat Trap
Bait Cage Kits available at these and other fine retailers (select locations):